Decriminalization of Homosexuality: On May 14, 1969 Canada decriminalized homosexual acts between consenting adults with the passage of the Criminal Law Amendment Act first introduced in December 1968. It receives royal assent on June 27 One day before the Stonewall Riots took place in New York. Tipping Point: Operation Soap: On Feb. 5, 1981 Toronto police stormed four gay bathhouses in the city as part of what they called "Operation Soap," and arrested just under 300 men. For the majority, charges were later dropped or dismissed. Rallies were held in response to the injustice and to this day it is often referred to as Canada's Stonewall. To this day, "Operation Soap" is one of the largest mass arrests in Canada and it was 35 years later in 2016 that Toronto's police chief formally apologized for the raids.
In addition to the PRIDE month being about celebration, it is also an opportunity to peacefully protest and raise political awareness of current issues facing the community. Parades are a prominent feature of Pride month, and there are many street parties, community events, poetry readings, public speaking, street festivals and educational sessions all of which are covered by mainstream media and attracting millions of participants. (Thank you to Jeff Stillman for this contribution).
Meaning of the Rainbow Pride Flag: Since the original 8-striped Pride flag was debuted in 1978, there have been several variations, the most well-known and commonly used being the six-striped flag. The six-color flag version has been popular since 1979. The Rainbow flag is a symbol of lesbian, gay, bisexual, transgender, and queer (LGBTQ) pride and LGBTQ social movements.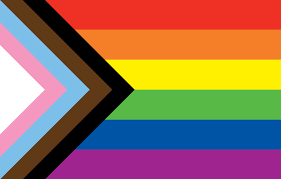 The Meaning of the Colours: red for life, orange for healing, yellow for sunlight, green for nature, blue for serenity, and violet for spirit, while the two earlier colours removed were hot pink for sex and turquoise for magic or art. Click here to view the different variations of flags:
The Progression Pride Flag adds five arrow-shaped lines to the six-coloured Rainbow Flag, which is widely recognized as the symbol of lesbian, gay, bisexual and transgender communities. Designed in 2018 by Graphic designer Daniel Quasar, Quasar added a five-colored chevron to the classic Rainbow Flag to place a greater emphasis on "inclusion and progression." Quasar's Progress Pride Flag added five arrow-shaped lines to the six-colored Rainbow Flag. The flag includes black and brown stripes to represent marginalized LGBTQ+ communities of color, along with the colors pink, light blue and white, which are used on the Transgender Pride Flag.
To better understand the meaning of the Progression Pride Flag, click here: https://www.them.us/story/pride-flag-redesign.
Understanding Two-Spirit: While there are some who use the term Two-Spirit to refer broadly to all queer Indigenous people, the term is more commonly used for identities that originate in traditional understandings of gender and sexuality (rather than Western colonial binaries). Because these traditions and understandings are culturally and spiritually specific, it's important to recognize that Two-Spiritedness is not an identity universal to all Indigenous communities or something that is a part of all Indigenous worldviews. Click on this link to learn more about Two-Spirit: Traditional Understandings of Gender Diversity