Services for Families
Parenting may be the most important job in the world, but it can also be one of the most difficult.
Parenting can become overwhelming when parents have little support from family, friends, or the community, when parents are very young and are not prepared for the responsibility, or when they do not know what to do when their child misbehaves.
A mental health problem, domestic violence, or drug or alcohol abuse problem also make it more difficult to be a good parent.
Please call us:
If you are aware of a child or youth who may be abused or neglected;
If you know or suspect that another child or youth is exposed to domestic violence;
If you are pregnant and are worried about how you will manage;
If, as a parent, you find the stress becoming overwhelming.
Call us day or night, 7 days a week
at
1-800-265-8300
or
519-824-2410
Child Protection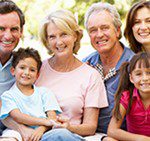 We believe that the family is the best for children and youth to receive the love and care they need to grow into healthy adults. We try to help them remain with their families wherever possible, and this is where most of our work is done. Out of the 1,332 investigations that were done in 2011, 403 families received ongoing support. Of those 403 families, 90% of the children and youth were able to safely stay within their own family or family system.
Where ongoing support is needed many services are provided to help the children and youth in those families remain in their homes. Together with the family the worker will develop goals, connect with other professionals and community members involved in the family'€™s life, and will work with the family either on a voluntary basis or with a court order.
When children and youth are not able to safely live with their own families, F&CS will arrange for them to be cared for by another family €" relatives, friends, and/or foster families.
Parent Aides:
Parent Aides are specially trained volunteers who provide approximately 3 hours per week of ongoing, long term in-home support. They work directly with Dads and Moms to help, coach and encourage parents to provide safe and loving homes for their kids.
Family Support Program:
The Family Support Program provides in-home support to families served by Family & Children's Services. Family Support Workers help parents find new ways to manage their child's behaviour, build better relationships with their child, and improve how family members talk and listen to one another. A Family Support Worker can also provide information about stages in child development, help identify and find needed community resources and how to access them.
The Family Support Program is also used as a way to prevent children from being admitted into foster care or to help children already in foster care return to their family. Family Support Workers may work with the family during access visits to help the parents learn new parenting skills.
Parenting Groups:   The Program also offers several parenting groups. These include:
Caring Dads helps fathers improve the relationship with their children as well as understand the impact fathers' behaviours have on children.
Circle of Security focuses on helping parents learn how their children can develop a sense of safety and security. Videos and worker led sessions give parents the tools to read children's cues, protect children, promote healthy independence, and help children with their feelings.
STAY (Survive and Thrive in the Adolescent Years) is a group that supports parents of teens aged 12-16 as they meet the challenges of parenting adolescents. Communication, sensitive parenting, and supporting teens to problem solve are some of the many challenges discussed.
Ban Viet is aimed specifically at supporting parents in the Vietnamese community. Guest speakers provide information and support to all parents in the Vietnamese language. This is an ongoing group that parents may join at any session. Sessions run weekly throughout the year.