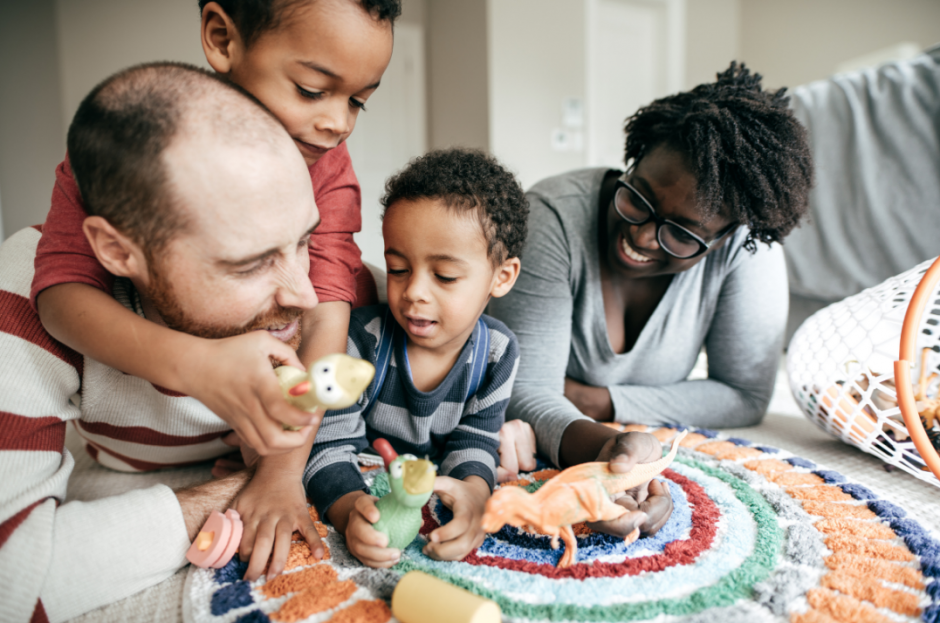 What's it like to be a foster parent? Is it difficult? Is it hard to say goodbye when a child leaves your care? Is it rewarding?
Prospective foster parents often have many questions about the foster care process, and I had the wonderful opportunity this month to chat with one of our Foster Parents, Laura, to find out why her and her husband decided to make the leap from parents to foster parents, and learn about their incredible journey.
Laura and her husband, Mike, always knew they would become foster parents – it was only a question of 'when'. With Mike having had spent time in foster care as a child, it was something that had always been on their mind. They wanted to provide stability, love and care for children in the community, just as an incredible foster family did so for Mike many years prior.
But, before becoming foster parents, Laura and Mike were eager to start their own family. After a few years, the couple had welcomed twin boys, and then a girl.
Then, Laura and Mike expanded their family once more, but this time, through adoption. Laura vividly remembers seeing her daughter's picture for the first time, "When I saw her, I felt something instantly. I just knew that was my daughter." Laura admitted the process took longer than she had anticipated, but nine months after expressing interest in adopting their little girl, she was finally home and in their arms.
Laura and Mike settled into life as busy parents to four active children, enjoying every moment as a family of six. But, despite life being very busy, Laura and Mike couldn't stop thinking about their desire to become foster parents. It was a thought that they just couldn't shake.
"My children were all still very young, with two of our children having special needs. I was a little worried about how I was going to handle it, with a house full of children already", Laura said, "but it felt like a sense of purpose, we just knew we had do it."
So, Laura contacted Family and Children's Services of Guelph and Wellington County to begin the process to become certified as a foster parent.
"One of the great things that we found out, is that there are a lot of different ways to become involved in foster care, and not all of them require a 24/7 commitment," Laura said, "so this way, we were able to kind of dip our toes in the water, and see what it would be like, before becoming full-fledged foster parents."
Laura and Mike decided they would start their foster care journey by doing relief foster care, meaning they would provide care for children periodically, perhaps over a weekend, or for a few days during school breaks. "Because there wasn't a huge time commitment required for relief care, it was a great way to begin to experience what being foster parents, and foster siblings, would be like, before going all-in."
Though there were some challenging moments, the family really enjoyed their experience providing relief foster care, and after a few years, decided they were ready to become full-time foster parents. Once the decision was made, Laura and Mike have not looked back.
In the few years since, Laura and her family have shared their home with a number of different children from the community. Though it has not always been easy, she says that the experience is even more rewarding than she could have ever imagined, "It is incredible, to be able to invest in these young lives in such an important way."
But, as Laura shared, it is not a journey without its challenges. "There are a lot of fears and unknowns that exist in your mind as you're thinking about taking that first step – how are we going to handle letting go when a child leaves our care? How are we going to navigate these complex relationships? What are the kids that we care for going to be like, will we be able to give them the support they need? There are just so many questions at the beginning, especially before you take that leap and actually commit to it."
Apart from the many fears and unknowns that often can make folks hesitant to take that first step, Laura shared that the foster parent journey is not always a smooth one, and there can be a lot of bumps in the road that you don't anticipate.
Sometimes, Laura wasn't sure how long a child would be with their family, or had very short notice in which to get ready for a new child, both of which were challenging. Laura also noted that the constant appointments, as well as navigating the court system, also proved to be challenging at times.
But, along her journey, Laura has learned a lot, and one thing has stuck with her. "Having patience and trust is key. There will always be a lot of waiting, and so many unknowns. There is so much that's out of your control when you're a foster parent. I've learned to take it one day at a time, and always just re-focus on providing a safe and loving home for a child. You really have to learn to trust in the process, and if you can do that, even when it is really challenging, everything just becomes so much easier."
Although Laura shared that the challenges are great and many, she remarked that the rewards are even greater. "You get to watch these kids change and grow so much in the period in which they come into your home. You get to see the beautiful way in which a family can come together, and how there is just love all around."
Laura shared that the journey can be quite emotional, especially when saying goodbye to a child after a long stay. But for her, the heartbreak of losing a child that has become a part of your family is nothing compared to the joy of knowing they are back where they belong. "It is the best feeling to watch a family come back together, or a new family begin."
Laura shared that fostering as a family has led to some really emotional moments, and some that she will never forget. Laura remembers watching her children fall in love with a baby that had come into their home for a few months. "I remember, I got the call in August. The worker asked if we could care for a young baby for a few months. I love babies, so I said yes right away! And when I watched our four children just fawn over this little one; hold her, love her, play with her – it just was so incredible to see the love that my own children had for this little baby that had overnight become a part of our family, if only for a few months."
Laura shared that although she felt well prepared through the training received and from what she knew of foster care, there was one thing that she did not anticipate. She knew that she would grow to love the children in her care, but she did not realize how much she would grow to love their parents as well. It was another aspect of the foster parent relationship that she had not given a lot of thought to – but ended up being one of the most rewarding parts of Laura's journey as a foster parent.
"Seeing these parents, who love their children so much and are just struggling so badly with their own challenges, trying really, really hard to get their kids back, is so inspiring and heartbreaking all at the same time. I was grateful for those moments when I was able to be there for the parents and encourage them in subtle ways. I feel so strongly that everyone deserves a second chance. It is just such a powerful thing to see, and to be a part of."
Overall, the experience is one that Laura and Mike wouldn't change for the world. Despite how busy life is, and despite the challenges that may come part and parcel with the foster family journey, they look forward to welcoming more children into their home in the months and years ahead. "To be able to be the person to love this child, to have fun with this child, to care for this child and help this child to learn and grow – to be able to provide these things for this child who needs them, it's just such an incredible feeling."
Laura understands there are many things that can hold people back from beginning their own journey as foster parents, just as she and her husband waited for years before they finally decided to push past their hesitations and jump in.
"Parents ask us what it's like to be a foster parent, and often there are a lot of questions, and there can be a lot of fear and misunderstanding. I tell them it is almost like being on a roller coaster. You hop on, and you're buckled in. The ride attendant checks that you're good to go, gives you the thumbs up, and you're off. It's not always easy, especially as you navigate past all of the bumps and twists along the way, but you know that no matter what happens, you're buckled in, and you have people around you who are there to ensure that you make it safely through to the end of the ride. So, even if it's a bit of a wild ride, you know that you will have all the support that you need. And, like a roller coaster ride, it's something you'll never forget."
Family and Children's Services of Guelph and Wellington County continues to seek out prospective foster parents in the community. If you would like to learn more about what it's like to be a foster parent, or perhaps make the first steps toward becoming a foster parent, please reach out to our Foster and Adopt Team at 519-824-2410 or by email at FosterandAdopt@fcsgw.org.